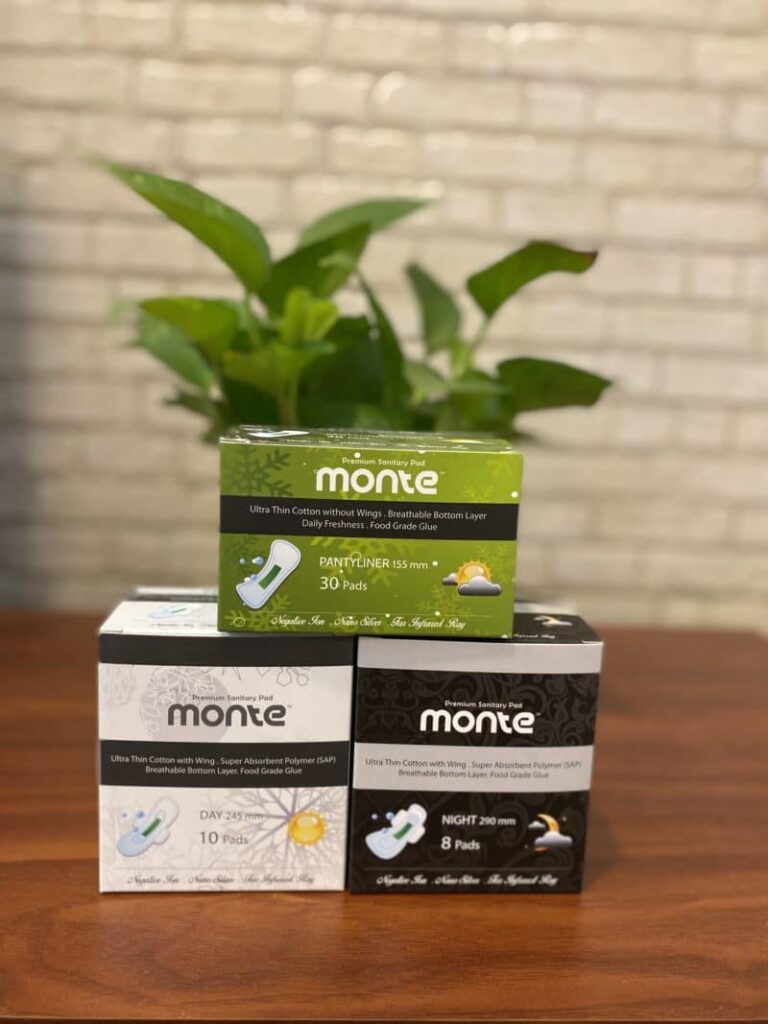 Urich Marketing
MONTE SANITARY PAD is a high-grade feminine sanitary pads designed with the latest cutting edge technology which composed of a total of 8 layers where high level of quality assurance is enforced and monitored from the selection of raw materials to the entire production processes, in order to achieve the export quality requirement standard of the European countries and USA.
MONTE是一种高档女性卫生巾。它采用了最新尖端技术的八层设计,从选择原材料到整个生产过程都要经过的严格实施和监督以达到高水平质量保证,并达到欧洲国家和美国的出口质量要求标准。
MONTE adalah sejenis tuala wanita yang bermutu tinggi, terdapat 8 lapisan yang direka dengan teknologi canggih dan terbaru. Tahap kualiti terjamin tinggi dengan penguatkuasaan ketat dari pemilihan bahan mentah hingga keseluruhan proses pengeluaran demi mencapai standard kualiti eksport ke negara-negara Eropah dan Amerika Syarikat.
The main focuses of MONTE Sanitary Pad design are to suit the practical use for women menstrual period as well as for body health protection. It has been enhanced with many advanced technologies as to achieve the requirements of the modern women.
MONTE卫生巾的设计主要重点是于适合女性月经期的实用度以及维护身体的健康。 它是经过多个先进技术的研究以增强及满足现代女性的需求。
Fokus utama perekaan tuala wanita MONTE adalah untuk penggunaan praktikal wanita semasa kedatangan haid serta penjagaan kesihatan badan. Ia telah dipertingkatkan dengan beberapa teknologi yang canggih untuk mencapai keperluan wanita moden.
Product benefits | 产品功能 | Fungsi Produk:
1. Regulate menstrual period cycle | 调节月经的周期 | Mengawal kitaran tempoh haid
2. Relieve menstrual cramp / pain | 减少经痛 | Melegakan kesakitan senggugut
3. Anti-odor & reduce white discharge | 减少异味及白带 | Mengelak bau & keputihan
4. Improve fertility | 提高生育能力 | Meningkatkan kadar kesuburan
5. Anti-bacteria & anti-itch | 抗菌及抗痒 | Anti-bakteria & anti-gatal
6. Improve endocrine system, balance physiological function | 改善内分泌,平衡和协调生理机能 | Memperbaiki sistem endokrin & fungsi fisiologi
7. Cell activation, promote blood circulation & metabolism | 活化细胞,促进血液循环及新陈代谢 | Pengaktifan sel, menggalak peredaran darah & metabolism
8. Improve immune system | 提升免疫力 | Meningkatkan sistem imun
Contact Information
no. 3-9d, Jalan Desa 2/2, Desa Aman Puri, Kuala Lumpur, Selangor, Malaysia